Christmas is right around the corner, so I thought now would be a good idea to post a "bookish gift guide" for anyone who is looking to gift a bookworm in their life a special gift for Christmas that is NOT another book to add to their bookshelf.
I decided to base this gift guide on items that you can find on Etsy; 1.) because I have been obsessed with just scrolling through pages and pages of handmade gifts on Etsy and; 2.) because now is a great time to support small, independent business, and hopefully this will inspire you to look at the gems that you may find on Etsy.
---
Personalised Library Stamp
Any book lover would love to have their own personalised book stamp. I love the idea of personalising my favorite copy of books just so that in case someone borrows a book, they will know who to return it to.
Etsy Product Description:
"Cute custom bookplate stamp, custom book stamp, from the library of stamp, personalised bookplates. Perfect teachers gift idea and gift for book lovers.
You will receive:
○ Book Stamp customized with your name/text
○ Beautiful Gift Wrap (for wood stamp option)
○ Great personalized box for your stamp (for self ink option)
○ Wood stamps are made from maple wood and laser-etched renewable resource grey rubber.
○ Self-inking stamp is available with different color ink. Self-inking stamps are made from post-consumer recycled plastic, and laser-etched renewable resource rubber. Custom ink colors are available upon request".
Etsy Link: Library Stamp
Magical Village Bookbestie Book Sleeve
An essential. This is the best way to carry our precious baggage (books) around to make sure they avoid any creasing, folding or rips.
Bonus points if you gift them a book sleeve with an art print of from their favourite book.
---
Etsy Product description:
"Handmade book sleeve to protect your treasures
Protect your book while it's in your bag or rucksack with a custom made book bestie.
No more bent pages- no more losing your bookmark when your book opens in your bag and it slips out…"
Link: Booksleeve
Book Stud Earrings
If you know a book lover who is into fashion or jewellery, in particular, then this might be a good gift option!
I love these book stud earrings because they're low-key and understated, but still really fun.
---
Etsy Product description:
"Handmade
Stainless Steel, Hard EnamelA pair of tiny book shaped stud earrings made from silver stainless steel and hard enamel.
These fun little book earrings make an ideal gift for a book lover and are a subtle way of showing your bookish side.
Packaged in a tiny gift box, these book earrings are ready to give as a gift."
Link: Bookish Earrings
Personalised Leather Bookmark
Not only is this a useful gift, but to have it personalised with the recipient's name or a short note would make a really lovely gift.
(There are also non-leather options, if you prefer!)
---
Etsy Product description:
"Personalised Leather Bookmark – Custom Monogram Bookmark – Christmas Gift for Book Lover – Bookmark for Teacher – Gifts for Book Readers
You will received a leather bookmark with colourful silky tassel. You can personalise this bookmark with name, initial, monogram or short quote. It would be a great gift for the book lovers ;)"
Link: Leather Bookmark
Library card tote bag
Another very useful gift for any book lover. Who doesn't want a cute, bookish tote bag to carry books in?
---
Etsy Product description:
"Handmade
Cotton canvas Beautiful Library card tote bag, Library Date Due card with date stamps.
Librarian gift, author gift, teacher gift, Christmas gift.
100% cotton canvas
Perfect gift for a book lovers !"
Link: Library Tote Bag
Magic, Spells and Potions Notebooks
For any Harry Potter fans, I think these potion notebooks are a great gift to open on Christmas day!
---
Etsy Product description:
"Handmade
Set of three Magic Notebooks.
Record all your magical thoughts in these enchanting A5 magic notebooks. Perfect gift for aspiring witches and wizards!
These charming notebooks are designed with a vintage book cover effect and make ideal gifts for fans of the fantasy world."
Etsy Link: Magic Potions Book
Pride and Prejudice Book Bag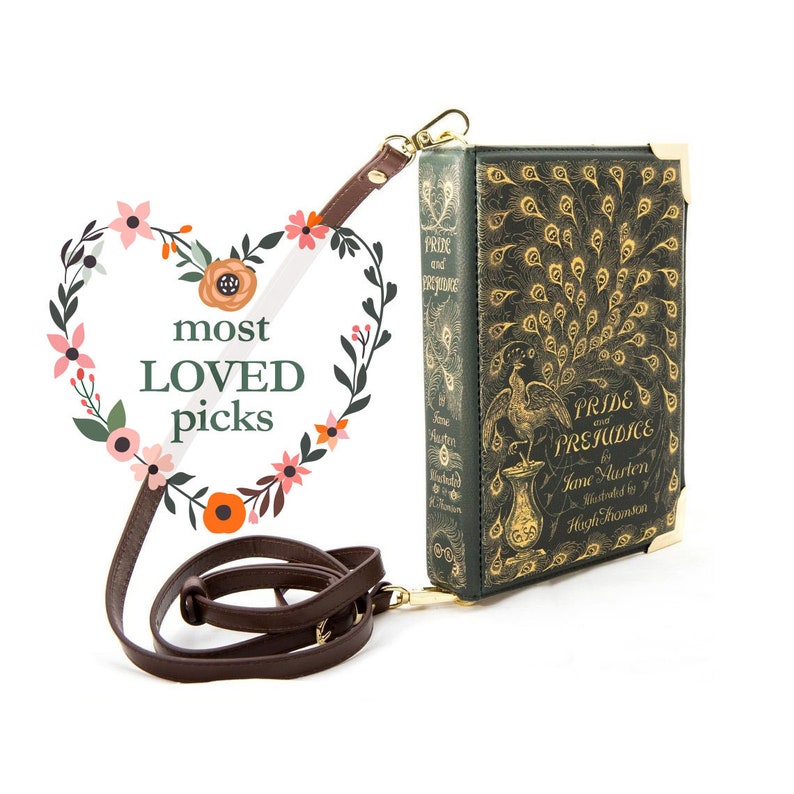 For any Jane Austen "Pride and Prejudice" fans, this one is for you! If tote bags aren't your style, maybe this hardback inspired crossbody bag might be to your liking.
I'm on the hunt for a "The Great Gatsby" version…
---
Etsy Product description:
Handmade
Ships from a small business in United Kingdom
Materials: faux leather, pu, vegan leather
Well Read Book bags are a celebration of literature and reading and allow you to express yourself through your favourite book.

Celebrate your love of Jane Austen's Pride and Prejudice with this beautiful vegan leather handbag. It features the original 1813 cover artwork by Hugh Thomson. This green bag depicts a whimsical gold peacock feather design. The back of the bag depicts the striking quote: 'There is a stubbornness about me that never can bear to be frightened at the will of others. My courage always rises with every attempt to intimidate me'. Perfect for any occasion, from formal to every-day, add some unique flair to your style.

The bag is inspired by hardback books and is crafted from faux leather and a book-binding board.

It can be worn as a crossbody bag, or by detaching the strap and folding away the D-rings, used as a clutch bag. Its striking design and elegant shape make it suitable for daytime and evening occasions.

NB: No books were harmed in the making of this product."
Etsy link: Pride and Prejudice Book Bag
Page Holder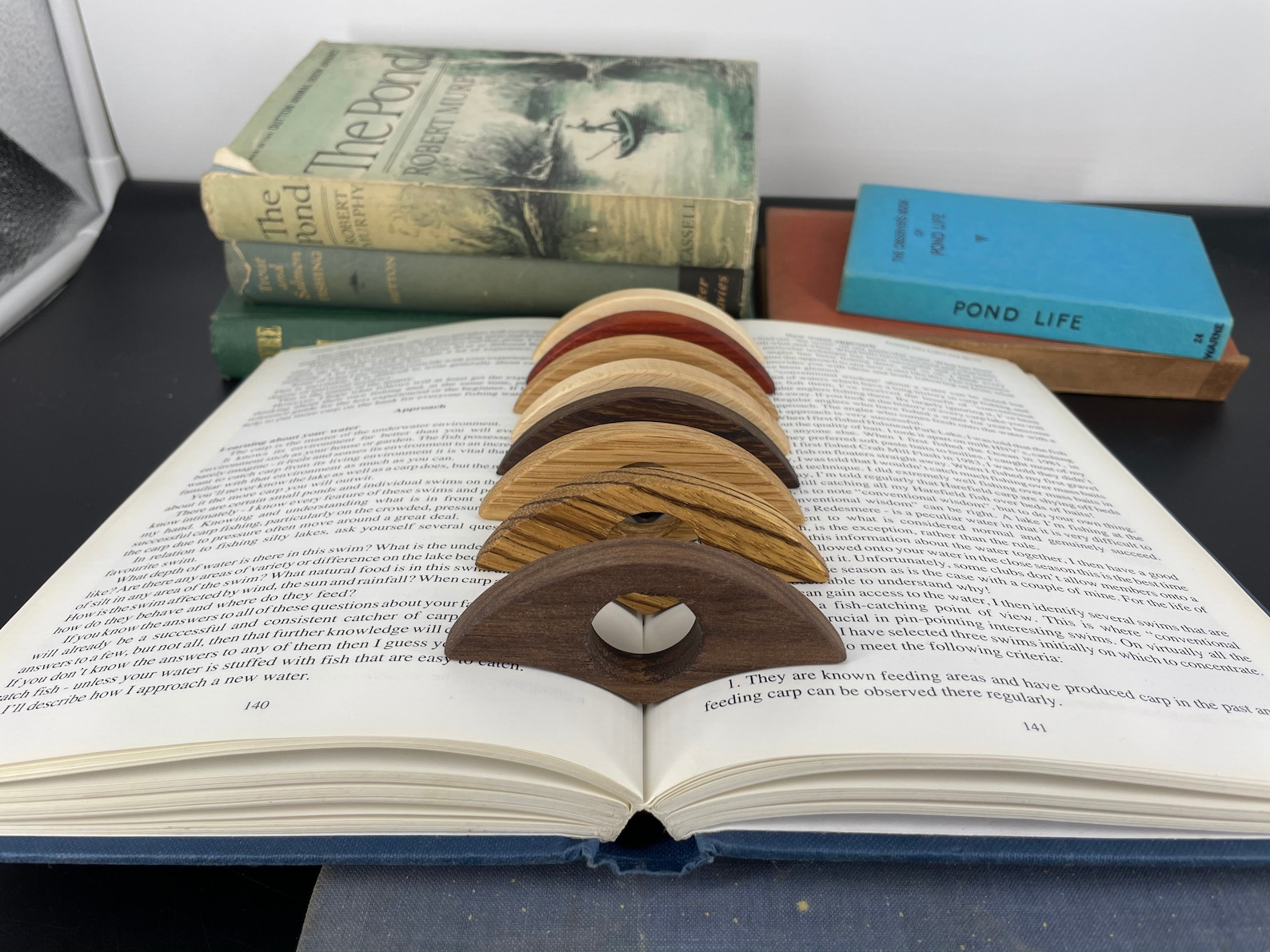 I've bought a page holder from this exact seller before for a gift for a friend who happens to be a book lover. I can affirm that this item is beautifully crafted, and the wood used is very smooth and high quality. I might end up putting this on my own Christmas list this year.
---
Etsy Product description:
These neat little book page holders are a must for any book worms who need a free hand to hold a glass of wine or a cup of tea!
They also save reading induced hand cramp!
Perfect for small to medium sized books, if you have larger book you might want to look at my other page holders, links are below.
They make perfect little gifts and are small enough to fit inside your homemade Christmas crackers!!
All made from English and exotic hardwoods with many different woods available and two price ranges.
I also make a flatter design, which work well on all sizes of books including large hardbacks! please follow these links
Etsy link: Page Holder
Blind Date With A Book Surprise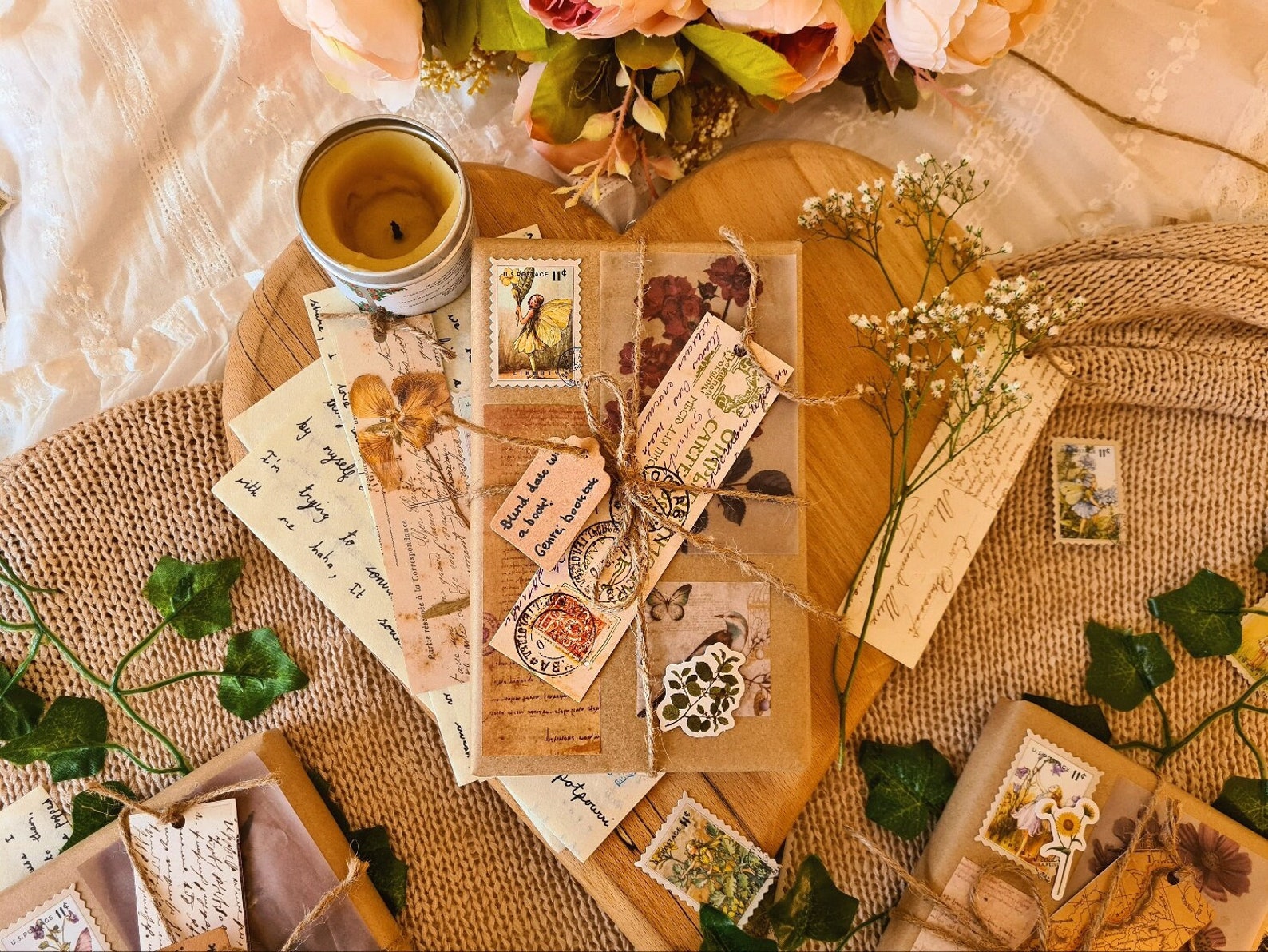 I love the idea of these "blind date with a book" ideas, and I've been meaning to pick a few out from different places to do a dedicated post or video for tiktok (I'll post about it if I ever get around to doing it). I think this is a perfect gift for a book lover because 1.) it's a book; and 2.) It's beautiful wrapped and nicely presented. Plus, you will be supporting a small business!.
---
Etsy product description:
Welcome to Blind Date with a Book!
These handpicked books will come carefully and beautifully wrapped to suit your bookish needs, so you may have the most perfect reading experience possible
Choose from the genre of your choice, but the book itself will remain a surprise until arrival! This way you can never judge a book by its cover!
Each book will be decorated in vintage eco-friendly brown paper, along with cottagecore style stamps, prints, and stickers.
You will receive:
– The Book Of Your Preferred Genre
– A Dark Academia Style Bookmark
– Free Cottagecore Style Stickers
– A Free Luxury Chocolate Bar (flavours may vary)
Either choose a brand new book, or a pre-loved book, for a more affordable price! All pre-owned books will come used, but in very good condition with no major creases or marks.
Worried you'll receive a book you already own? Simply check out the personalisation option within the listing! I am happy to help and make sure you do not receive a duplicate!
If you'd like to receive a personalised note with your surprise book, please private message me with what you would like to include. No extra charge will be included.
Etsy link: Blind Date With a Book
---
What bookish gift ideas are you looking to gift or receive this Christmas?
Let me know in the comments below!
Start your FREE Kindle Unlimited 30-day trial now!:
Follow Me On Social Media and Let's Talk Books! :
My Amazon Storefront (I do get a commission if you purchase through my link):
Read More: