For as long as I could remember, I loved reading books. If you asked me to recall any childhood pastimes or hobbies, reading would most likely take the top spot. I thought it would be a really fun blog post to cruise through my deepest memories (and the internet) for some of my favourite childhood reads and share them with you all– who knows, maybe some of you may have read the same books too!
I took a long trip down memory lane and had so much fun looking for the titles of some of these books. I literally had to force myself to remember the strangest, minuscule details about the a specific book and typing the most random phrases on google.
"children's book about blonde princess that wears a red dress"
"children's books about a magic tree"
Google did not disappoint.
---
The Horrid Henry Series by Francesca Simon
As a child who grew up in the UK, it's almost impossible to escape anything 'Horrid Henry'. There was a tv show, a film, magazines and of course a book series. I had my own collection of 'Horrid Henry' books and I loved reading all the mischiefs Henry gets up to.
Anne of Green Gables by L.M Montgomery
A literary classic. If you have not read this book yet I would highly recommend doing so. The storyline may seem quite simple, it's about an orphan girl named Anne, but there is so much charm and comfort laying within the chapters of this book. I have this really beaten up edition of this book where the front covers are barely holding up and the pages are bent and torn up a bit, but it's still one of my favourite childhood keepsakes.
Rainbow Magic Series by Daisy Meadows
This book series was MY Harry Potter. I remember being so excited for Wednesdays because I knew that I would be able to buy another book to add to my collection after my ballet class– I think that's why I did ballet for a while…so I can continue to buy books after each class.
I love how each book is centered around one fairy and the adventures they get up to, not to mention that there were so manyyyy types of fairies from Sports Fairies (e.g Helena the Horse-riding Fairy) to Petal Fairies (e.g Louise the Lily Fairy)
Special mention to the fairy with the same name as mine– imagine my elation when I found out that there was another fairy with the same second name as mine.
Angelina Ballerina Series by Katharine Holabird and illustrator Helen Craig
Another childhood favourite. I mainly started reading the Angelina Ballerina books because I loved the tv show so much. I think Angelina may be the reason why I asked my parents to sign me up for ballet lessons….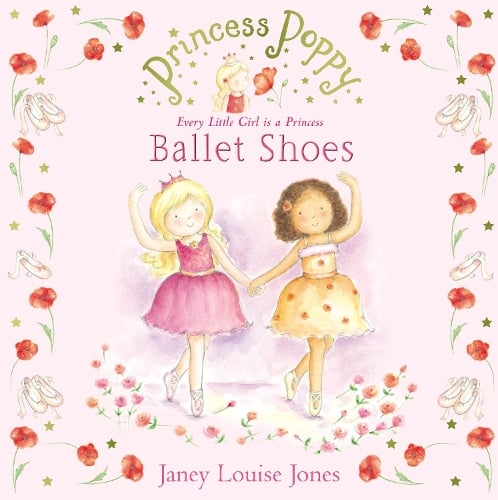 Princess Poppy Series by Janey Louise Jones
I don't remember much about the stories in this series (I know it's about a Princess named Poppy and her adventures lol) but I remember having quite a sizeable collection of books from this series. When I was browsing through Google, typing up random keywords like 'Children's books about a Princess' or 'Blonde Princess Books', I was hit with a nostalgia as soon as I saw this cover.
I think I remember that you even get a CD disk(?) at the back of the book.
Books by Roald Dahl
I started reading Roald Dahl books because we had a whole topic about him and his work. Our class even did a play based on his book 'Fantastic Mr Fox'– I played one of the little children AND had a little narrator piece.
'George's Marvellous Medicine' was one of my favourites, followed closely by Matilda, because it was just so atrocious and strange. I also really love the illustrations (curtsey of Sir Quentin Blake) and loved the way they elevated the stories.
The Magic Faraway Tree Collection Enid Blyton
This one is a middle-grade classic. I remember feeling like the coolest kid in my class when I walked into the classroom with the collected edition (3 books in 1) of this series.
---
What are some of your favourite childhood books?
Let me know in the comments below!
Find me on social media and let's talk books:
Read More: